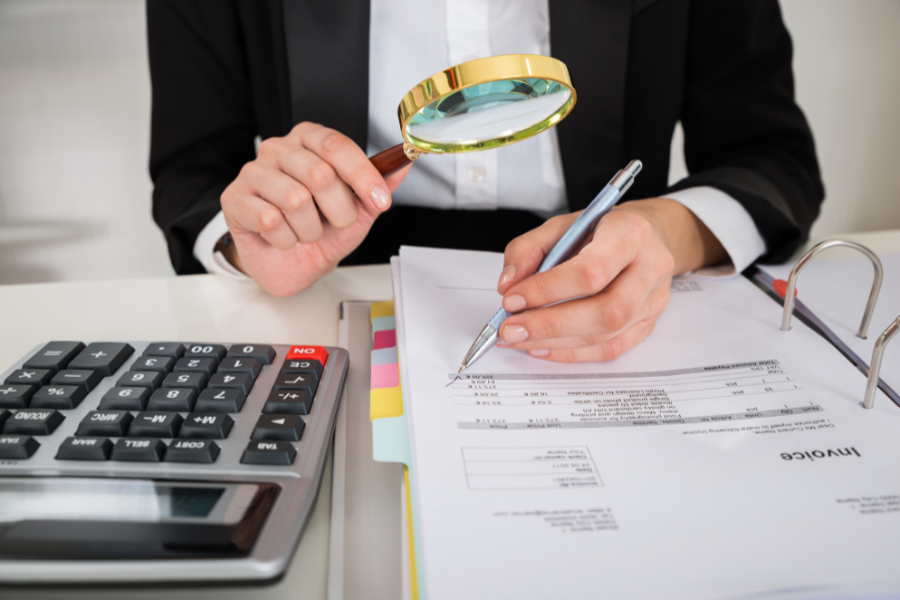 AP departments can easily become overburdened when it comes to managing and paying invoices and handling other transactions. While some departments face limited resources such as low staff and underfunding, many are trying to manage a large uptick in cardholders and invoices.  
Whether you are dealing with these issues, split transactions, or double dipping, there is a solution. One of the biggest financial drains in the AP department is duplicate payments, and improving payment visibility can help. Continue reading to learn how Card Integrity can help with invoice review. 
What is the Trouble with Traditional Invoice Review Methods? 
Traditionally done by in-house staff, reviewing invoices can be a tedious and time-consuming process. As the volume of transactions increases month to month, it becomes challenging to keep an eye on validating receipts, confirming payments, and settling transactions from multiple payment methods.
This is especially true if organizations use a manual approach. Manual processes can make for a good start but often lead to late detection of missed or duplicate payments. Not to mention, some manual review processes only use a random sample of the transactions in each period. 
How to Verify Invoices and Transactions 
Manual processes can fall short when trying to review transactions against invoices for accuracy. To review invoices against credit card transactions and verify the legitimacy of the expense, several key steps can help. First, it is important to ensure that the amount on the invoice matches the amount of the credit card transaction. Another crucial step is to check that the description of the goods or services on the invoice matches the description of the purchase on the credit card statement. Additionally, a review ensures that the invoice is from an approved supplier. Finally, it is important to manually inspect the invoice with the transaction to ensure that it does not have any discrepancies or inaccuracies. By taking this approach, businesses can ensure that their expenses are legitimate and thus reduce their risk of fraud. However, these steps will need more than a glance to ensure the review's accuracy.
Clearly Identifying Risks with Technology and Service 
A thorough review between the invoice and the credit card transaction can mean the difference between finding fraud or running the risk of missing it. A solely manual review process can increase the risk of missing red flags. Card Integrity offers a third-party expense review service that pairs technology and expertise to review 100% of your transactions in search of high-risk duplicate payments and other potential red flags. Our in-house tool merges technology with human partnerships to focus on vendors' details, specifically categorizing transactions.
InvoiceWISE is a custom-fit service that helps assist AP with detecting duplicate payments. This includes checking for:
Transposed numbers
Bad naming conventions
Lax file formatting
Conflicting addresses
New employees 
Company name changes  
All these factors can contribute to duplicate payments. Thankfully, these are the types of issues that can be easily found by InvoiceWISE, pairing technology with a dedicated staff.
Problems InvoiceWISE Solves  
InvoiceWISE services are designed to increase overall visibility for AP and Procurement. Here are three main problems this service can help solve:
1. Replace Outdated Processes 
Historically, the manual process of inputting invoice numbers into ERP systems was the only way to confirm and manage payments. However, with time this method has proved to increase the risk of human error through poor naming conventions or simple oversight. 
Using an invoice review service takes a lot of pressure off the individual. Instead, it allows the reviewer to switch from being the first person to check invoices and payments to being the last set of eyes to review the reporting. 
2. Time and Cost Savings 
Another major benefit of using an invoice review service is the time you'll save as well as the cost savings. AP administration can greatly benefit by using a more efficient system to review invoices and confirm payments. 
If you're dealing with low staff or just limited time in the workday, most dedicated AP employees are likely to have similar issues. The good news is that you don't have to manage it all alone. Card Integrity acts as an extension of your internal team by providing thorough review with prompt reporting, freeing up time and resources for other areas.
Additionally, you can generate cost savings for your organization by catching duplicate payments early and avoiding these issues. Since InvoiceWISE helps tighten your internal controls, you'll get a clearer picture of how much is being spent with certain suppliers as well as any issues that need to be cleared up in your ERP system.
3. Efficient Corporate Card Transactions 
You probably have great goals for your organization's corporate card program. However, it's difficult to bring those goals to fruition if you're constantly struggling to keep up with the current load. 
Sometimes, overburdened AP departments can lead to inefficient corporate card programs. It can seem like scaling a mountain when you're working tirelessly to get through all the transactions for the month while confirming payments across different methods. 
Outsourcing with Invoice Review can help uncover more card benefits and improve the use of approved suppliers. Imagine how much more efficient your card program can be and how it could grow with the right systems in place and more transaction visibility. 
InvoiceWISE strengthens efficiencies between Accounts Payable (AP) and P-Card programs by maximizing card usage. Cardholders will receive more autonomy as well, which further lightens the burden on staff. 
Practical Ways to Remedy Inefficiencies 
Considering the current state of your AP program, can your team pull data and see how many duplicates you're paying? Thankfully, there are quite a few practical ways to remedy inefficiencies to help ease the burden of the AP program. 
Fill out the form below to download Card Integrity's free Invoice Review Best Practices E-Guide. This guide supplies actionable advice and tips to help you learn how to remedy:
The most common duplicate payment patterns 
Primary invoice payment methods
Customer invoice reception methods
Common data entry errors
Vendor fraud and abuse monitoring
By implementing the tips in this guide, you can start using a solid plan to increase transaction visibility and generate lasting results.