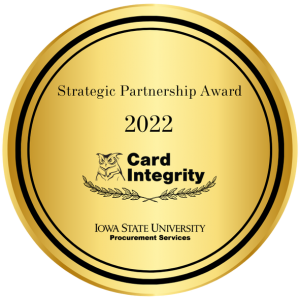 Procurement and finance professionals at higher education institutions know what it takes to maintain a well-oiled spending machine. As you focus on core actions to achieve specific card program goals, the need to continue lowering costs, find workflow and process efficiencies, and make sure the proper internal controls are in place all help contribute to a more effective and successful card program.
At Card Integrity, we understand that Card Administrators, Purchasing Departments, Controllers, Compliance Officers, and Procurement Professionals have busy schedules and might prefer not to reinvent the wheel. Meeting your purchasing goals each year does not have to be an ongoing challenge. In fact…
Explore Card Integrity's four core services and learn how each service can help your higher education institution.
---
Track and monitor expenses with DataWISE from .

Card Integrity provides Higher Education institutions with the innovative tools and service necessary to gain control of spending on card transactions and other expenses. Our flagship service, DataWISE delivers a custom configuration with over 250 types of reports that can be prioritized based on your organization's needs. Whether you need to closely track P-Card spend among employees or monitor supplier expenses or Travel Cards for conferences and campus events, DataWISE can help lighten the workload and ensure compliant spend.
Prevent fraud and misuse of university funds with TrainingWISE.
TrainingWISE is built to make training cardholders and approvers easier and faster. Card Integrity can create a comprehensive online training course for employees that are based on your unique card policies. Higher Education institutions also often employ students who may be P-Card holders. Providing adequate cardholder training can get them up to speed and even provide a timely refresher for current employee cardholders as well.
Improve accounts payable processes with Invoice Review
Bridging the gap between the Procurement and AP department starts by merging your expense monitoring efforts. Our Invoice Review service helps identify duplicate payments that may have been made to your suppliers across various payment methods. This user-friendly system can support your efforts to reduce unnecessary spending and clean up supplier payment processes.
Outsource 100% of the receipt review process with ReceiptWISE
At Card Integrity, we know that reviewing receipts can eat up a ton of time – even if it's a small sampling of purchase receipts for the month. This is why we're happy to offer an additional set of watchful eyes through our ReceiptWISE service. ReceiptWISE provides a consistent review of monthly receipt data to increase transparency for employee spending.
---
Meeting Purchasing Goals Gets Easier
To achieve important objectives such as
Increasing spend while maximizing rebate,
Expanding card program,
Building and improving vendor relationships,
Streamlining expense processes,
Preventing overspending
Mitigating risks such as noncompliance or fraud,
Higher education institutions can no longer rely on past methods such as manual processes to capture and monitor spend regularly.
Card Integrity's premium expense monitoring and payments tracking solutions play a key role in helping higher education institutions bring their card program goals to fruition year after year.
Benefits That Pay Off
Join our community of satisfied Higher Ed customers and share the immediate benefits of our integrated services which include:
Increased open communication between the Purchasing department and the colleges with insightful spend reports,
A savings difference from using Card Integrity vs. performing the tasks internally,
Greater detection of spending patterns and misuse that was not seen before,
A decrease in Accounts Payable costs when more of the smaller spend is done on the P-Cards.
Whether for P-Card, Travel Card, Ghost Cards, or out-of-pocket expenses, discover the efficiencies in the purchasing process with Card Integrity expense detection, prevention, and communication to increase compliance and transparency in spending.
START SPENDING WISELY – CONTACT A CARD INTEGRITY REPRESENTATIVE TODAY