Business travel may not be booming like it was pre-pandemic. However, it's still a necessary requirement to promote growth, build partnerships and improve communication while supporting the exchange of innovative ideas.
While increasing travel prices are a growing concern for Travel (T&E) managers, sustainability priorities are another area to consider maintaining as well. Thus, the challenge of travel expense management, monitoring T&E cards, and identifying cost savings persist.
To meet these goals, organizations can gravitate toward utilizing more sustainable travel suppliers and practices. Continue reading to discover how to leverage sustainable travel practices to best meet the needs of your card program.
The Importance of Sustainable Travel
Sustainability is top of mind for most companies but even more so for larger corporations with a bigger footprint. Sustainable travel often aligns with the organization's values and mission to become more eco-friendly.
Some have even taken the step to publicly pledge their desire to embrace more eco-friendly travel solutions. According to a study conducted by Deloitte, around a third of travel managers say their companies have pledged to reduce carbon emissions by a specific amount within a certain timeframe.
Further, sustainable travel helps position the company as forward-thinking and innovative. Travel managers get a prominent seat at the table when it comes to improving sustainability efforts through travel card policy compliance and managing vendor contracts.
How Cost Savings Applies
Larger organizations and manufacturing companies, in particular, can have the largest spend when it comes to business travel. An American Airlines report indicated corporate travel has recovered by 80% of what early pandemic levels were. As travel climbs back up, it will soon be met with companies' sustainability priorities and cost savings goals.
Sustainability leads to further prioritization of travel which includes answering questions like:
Which trips are absolutely necessary?
How can we meet travelers' needs while maintaining a budget?
How can supplier and vendor contracts be improved or evolve to meet goals?
The initial changes for cost savings don't have to be huge. Switching to using rideshare companies vs. a private car can be more economical and better for the environment. Considering more train routes over flights when available could also provide similar benefits.
Taking Action With Eco-Friendly Suppliers
While the obvious solution to reduce your environmental footprint and cut costs would be to reduce business travel, another equally sustainable option is to establish relationships with eco-friendly suppliers. Business travel is not going anywhere soon and as a travel manager, your workload is probably heavier than ever.
Luckily, sustainable travel creates competition among suppliers while helping you align with companies that share similar goals. For example, let's say you're considering a contract with a supplier that offers electric vehicles for your employees to rent for trips instead of conventional vehicles. Several car rental companies are working to increase the number of electric vehicles they offer so this could provide an opportunity for healthy competition and cost savings.
Finding eco-friendly suppliers and building a relationship is just the start. You'll need to closely monitor the amount of spend dedicated to those suppliers. These important data metrics can be used to assess sustainability and savings goals. They can also be helpful in reporting results to shareholders so the organization remains transparent about its progress toward more sustainable practices.
Avoid Bombarding Yourself With Data Aggregation
Adopting more sustainable business travel practices is worth the effort. However, monitoring supplier spend and T&E spend to reconcile goals can be a daunting task. You don't have to focus on gathering and assessing the data all on your own.
Card Integrity has the industry expertise and reporting tools appropriately categorize T&E spend as well as identify patterns and trends found among your sustainable suppliers. This reporting can introduce areas of needed improvement and additional savings.
Support Sustainable Travel and Other Card Program Goals
Card Integrity is a third-party expense monitoring company that brings data together from a variety of sources including:
P-Cards
T&E Cards
Fleet Cards
ERPs
Bank Data
Out-of-pocket expenses
Custom spend reports and supplier spend breakdowns are included with our flagship monitoring service, DataWISE, which was designed to increase spend visibility and help improve compliance.
Sign up for our newsletter to learn more about business travel management including best practices for travel policies, managing T&E card programs, or finding ways to identify cost savings.
For More Tips, Download the Complete T&E Best Practices eGuide
Card Integrity's T&E card expense review best practices eGuide will provide your organization with a clear and detailed outline of best practices that can be implemented into your program today.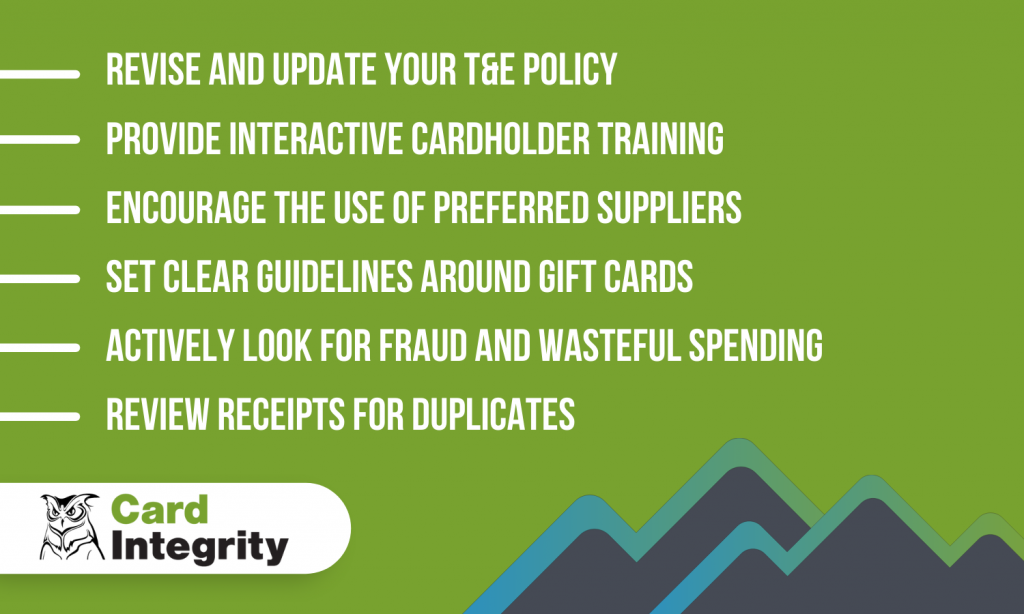 ---
Find More Articles on Business
Travel & Policy