In a post-COVID world, a sense of normalcy is beginning to return to business travel. That said, the impact of the pandemic is noticeable. The pandemic and its economic fallout may have shaken your confidence in spend for travel and expenses (T&E).
Many organizations and corporate bodies remain frugal as the economy slowly works its way back to where it was after the global pandemic. There is still a long way to go before the travel industry fully recovers, and high travel expenses in 2023 contribute to a feeling of hesitancy about spending more money on travel when the payoff may not be immediately obvious. However, there is evidence to suggest that prices may not remain high forever. "Bleisure" (a portmanteau of business and leisure) is a rising trend amongst travelers. This is when a traveler combines a work trip with a personal vacation, and integrates it into their schedule. Bleisure travel is an attractive opportunity for travelers to explore locations that are unfamiliar to them. This trend is a direct result of the pandemic.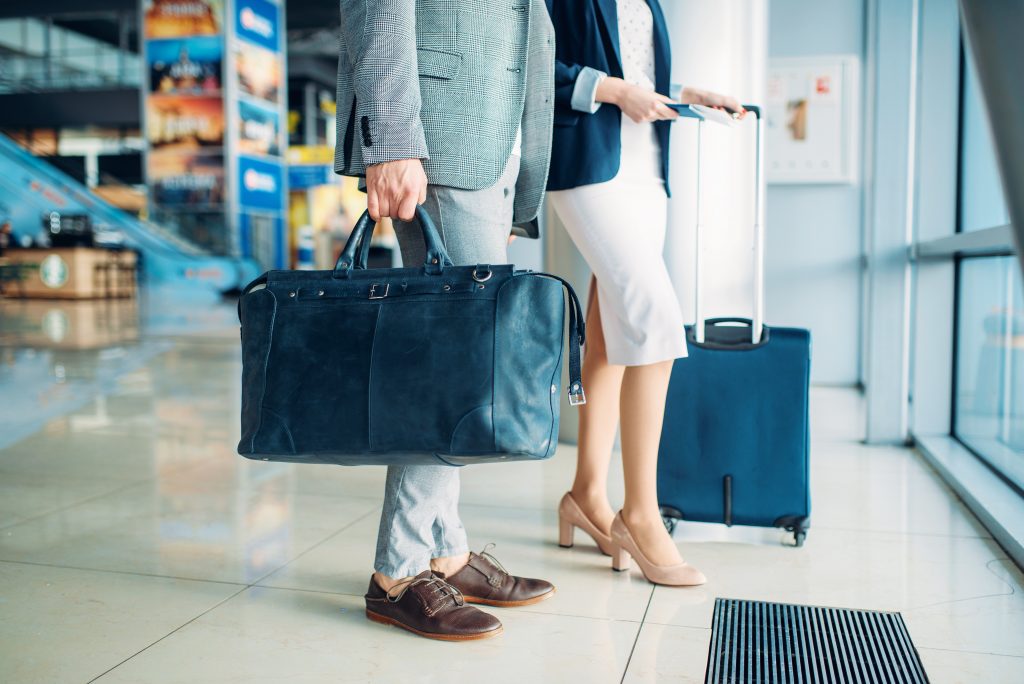 That said, trends can't predict anything with complete infallibility. Program administrators are still concerned that the market is fickle, and know that spending a larger amount on T&E comes with risk. Ensuring a maximum return-on-investment on business travel is once again their top priority as the travel industry recovers. Increasing this ROI also provides a surefire way to restore confidence in the program across the organization.
Regaining Confidence in a T&E Program
T&E expenses are undoubtedly a vital investment towards the growth and upkeep of an organization's T&E program. Business trips, client visits, trade shows, conferences, and more are vital to organizations large and small, in nearly every industry. The expenses associated with traveling to these events contribute to the growth and upkeep of a healthy, successful spend program. To get these expenses "up to speed" and "back to normal", return-on-investment goes a long way to justifying bringing travel expenses up to the level they were at before the pandemic.
Resources for Improving Your ROI
There are several points to consider when putting together a plan to ensure that your expenses, travel or otherwise, are properly managed, or identify where improvements can be made.
Re-evaluate company policy. Make changes where necessary to fit any specific needs that your organization has. Eliminate unnecessary and improper expenses, and ensure to properly train cardholders to follow the guidelines that your program sets forth.
Leverage technology. Cardholders have an easier time than ever recording and reporting their expenses. Technology like optical character recognition (OCR) allows cardholders to scan their receipts. Third-party reporting is an available resource, and cardholders are frequently reminded to turn in their expenses through automated means like email.
Don't overlook vendors. They can play a key part in making a sizeable ROI on your investment. By not only negotiating with key vendors, but also working near them, you can establish relationships to improve your program's health and increase confidence.
In addition to a somewhat fickle environment for travel, several risks exist to a healthy T&E program that existed before the pandemic, and aren't going to go away as business travel ramps back up.
Data is frequently entered after the cardholder returns from their trip, not during. This opens up the possibility for fine details to be lost in the whirlwind. For example, retrieving an invoice from a restaurant out of town can prove to be inconvenient and difficult for the cardholder, meaning they may opt to submit a missing receipt form instead of tracking down the specific invoice. Program administrators are already very familiar with these common issues and pitfalls. Solid, comprehensive reporting is paramount to seeing the full scope of your organization's spend.
It Starts with Policy… and Best Practices
Organizations can invest in T&E expenses to take advantage of cost savings in the present, but they can also maximize their future ROI. It all starts with policy: the most integral part of any cardholder program. Card Integrity helps organizations define and flesh out their own best practices toward their individual card program. We work alongside corporations, governmental bodies, universities, non-profits, and more to help identify compliance issues when cardholders are travelling away from company property.
Our flagship service, DataWISE, reviews 100% of your organization's transactions across various payment methods for monitoring supplier usage, non-compliant behavior, and more. Receive monthly reports and speak with an appointed forensic specialist (a real human, not an AI or software). They can explain key findings and customize your report to highlight specific areas you wish to focus on.
Combining our expertise with robust reporting software, Card Integrity helps organizations overcome common challenges faced when dealing with T&E cards. We provide a powerful resource to help you get your T&E program up and running after the pandemic. To get more tips and advice on managing your travel card expenses, check out the Card Integrity T&E Best Practices eGuide.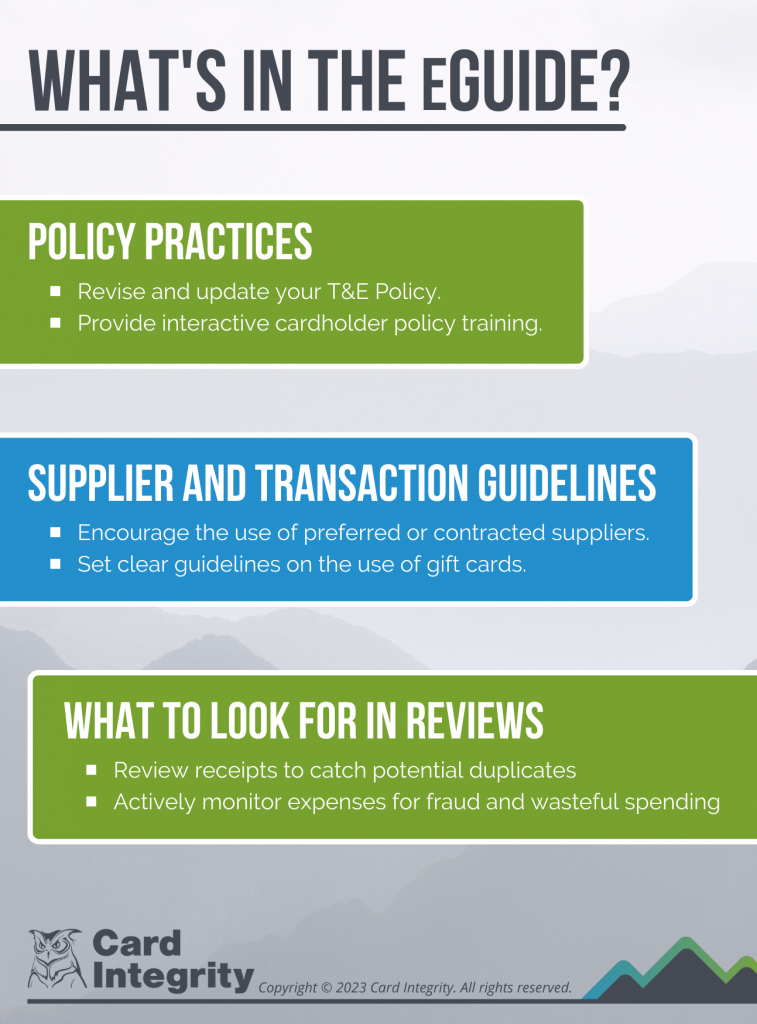 Download your copy of the eGuide by filling out the form below.