Training cardholders in your organization on how to follow policy can be tricky. This is true for both organizations with a P-Card program or those that issue Travel Cards, Fleet Cards, One Card, etc. Cut down on fraud and misuse by properly training employees, approvers, and program managers from the get-go.
In our experience, it is difficult to find material on commercial card training. As a result, we compiled a list of best practices for introducing or improving commercial card training programs.
Embrace Online Training
In some instances, it may be easier to have an in-person discussion with potential cardholders to go over your policy. In-person training certainly still has its merits, and should not be discounted entirely. It's more hands-on and forces a higher level of interaction. Online training, however, is more flexible, more repeatable, easier to plan and manage, more convenient, and with the right level of support and upkeep, can be a worthy addition to any policy.
Increase Engagement
Having your audience interact with the material makes it more likely that the most important points will stick in their minds. Interactivity naturally lends itself better to in-person events, but the training modules can be used online to increase attention and engagement.
These interactive modules can include anything from "hot spots", which place relevant information on specific aspects of images that can be hovered over and clicked on, to multimedia content such as audio and video.
Click here for an in-depth discussion of interactive online training elements.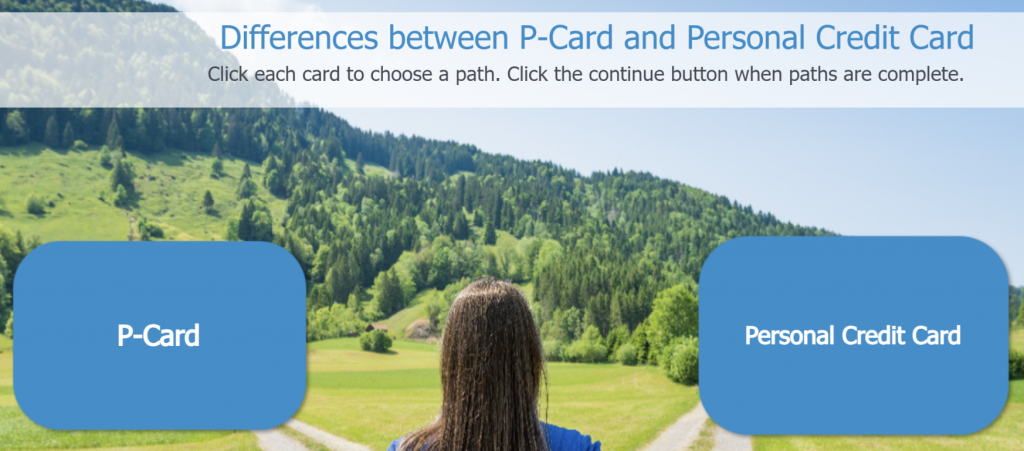 Tailor Training Sessions For Specific Roles
Courses are usually designed with the new cardholder in mind. When designing a course from the ground up it is essential to start with the perspective of someone who has never had a card issued to them before and will need to understand how the card payments and reconciliation process works. Namely, consider the following roles when planning your training courses.
Refresher training, which is for current cardholders who just need a refresher of the high-level elements of the training. This may happen at a specified interval, for example, every two years, or then the card needs to be reissued.
Approver training, which is for those in an approver role. Those on the approval side manage all of the P-Cards for your department(s) and will require some more in-depth training specifically regarding their role as opposed to being a cardholder.
Remedial training is for those who need more than a refresher. They may have accidentally misused their card and need training that emphasizes what they need to learn.
These three categories describe specific roles for training that deviate from the typical approval process for obtaining a card.
Keep Training Regularly Updated
Software always needs to be updated. This includes websites and online training courses. If you've been using an online training course for a few years, regular upkeep will prevent it from becoming outdated. An outdated online training module may cause participants to take the material less seriously. You may also consider changing up your content to keep it from becoming dull, especially for refresher courses where participants have taken the training before. It's also important to keep your training updated alongside your policy whenever changes occur to it.
Discover 24 Commercial Card Training Best Practices
The best practices above are just a few of the ones that we've compiled for procurement professionals. Download the free eGuide below, Cardholder Training Best Practices, to see all 24 card policy training tips. Included are:
Additional tips to increase engagement
Insights into tracking training outcomes
Gamification and quiz examples
And much more!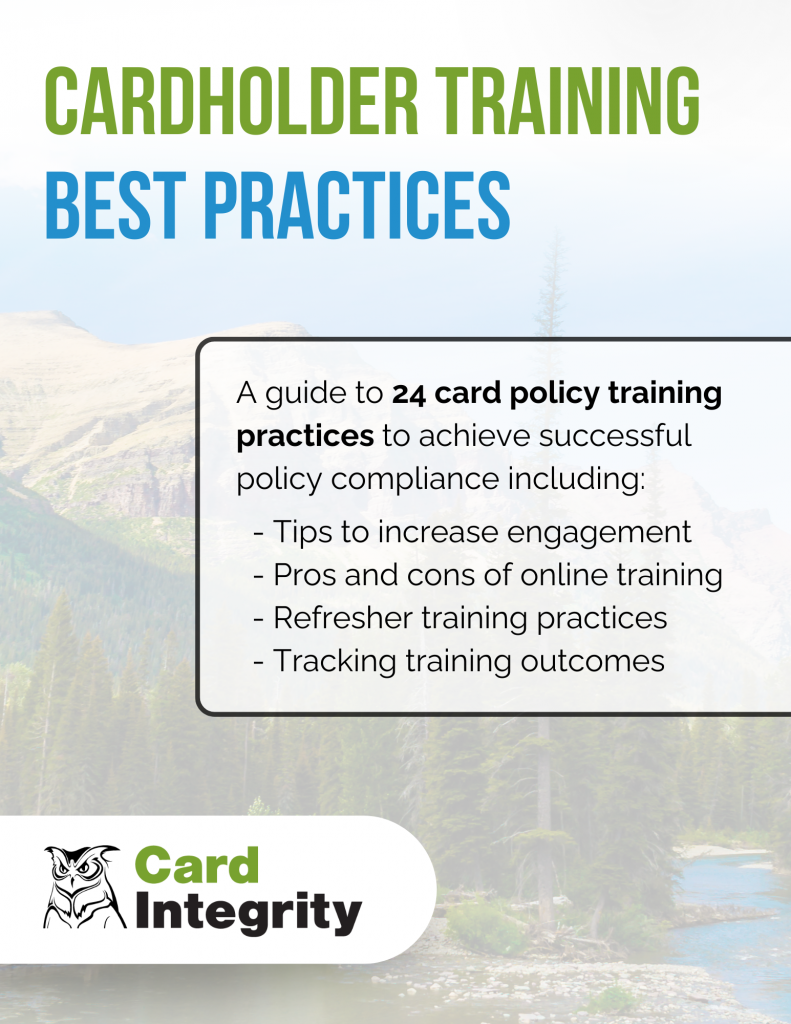 Download Your Free Copy of the Cardholder Training Best Practices eGuide